I MADE IT
!!!!
A whole month of creating and writing about it -
WOW
!!!
This really has been quite theraputic for me - I feel like I have accomplished
something positive and good. For me - that is major!!
I have met some awesome peeps during this past month--absolutely
supportive and just plain nice -
WOW
- I am blessed.
I plan on continuing my zentangle projects and my hand project--so keep on
coming back and take a peek what I am up to--
you might be surprised.....lol.
Here a few pics of my most recent creations:
This one-to me-looks like a ribbon that has different ornaments or
such hanging from it - I like the way it turned out--
I think one of the ornaments is looking at me!!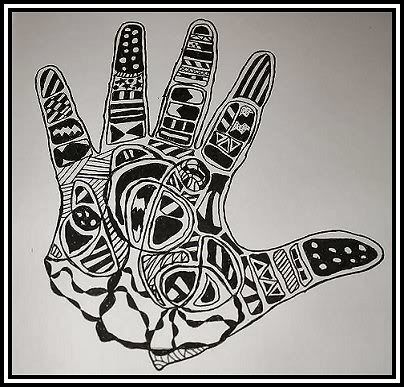 This is my newest hand project zentangle--much more detailed--
took me a bit longer to complete but to me worth it.
I thought it turned out really nice - just staring at it from a bit of a distance
and the coolest images come to life.
The pic below is a closer look at some of the details--
Well I just want to say
THANK YOU ALL
for coming by and being
so supportive and leaving such encouraging words - you have
made my life so much more richer.
Have a
BEAUTIFUL
day!!!
PEACE
~!~