Finally - my daughter uploaded the pics of the zentangles I have been doing--
The one I am going to show you is the first hand project one. Now that I am looking
at it - it does not look as sharp as I thought but it is my first try at this zentangle artform
so - the more I do - the better things will get--
Here it is: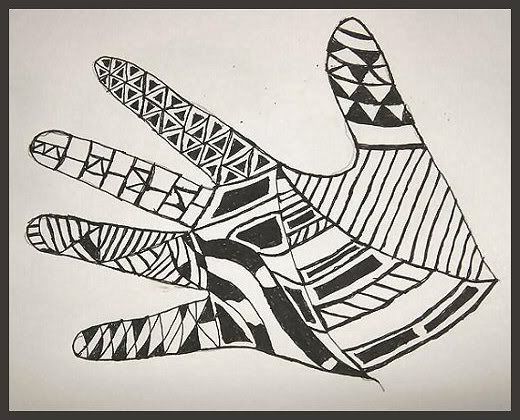 Unfortunately the paper is not as white here as it is in person - bad lighting in this
room - but I think you get the idea of it all -
this is what a zentangle is:


What is Zentangle?
Zentangle is an easy to learn method of creating beautiful images from repetitive patterns. It is a fascinating new art form that is fun and relaxing. It increases focus and creativity. Zentangle provides artistic satisfaction and an increased sense of personal well being. Zentangle is enjoyed by a wide range of skills and ages and is used in many fields of interest.
What is a Zentangle? In a word, a doodle. A structured, contained doodle. The term 'Zentangle' was invented by Rick Roberts and Maria Thomas when, one day, Maria described her experience, as she created her art, as feeling timeless, free and engendering a sense of deep well-being'. Rick recognised that she was in a meditative state and so Zentangles were born.
Well that is a quick explanation of it - the hand project and zentangle artform really are fun..
I can tell by each mini project I do - my style is getting a bit sharper and more
sure of itself--well let me know what you think of it all.
I hope you all have a
BEAUTIFUL
and
BLESSED
Thanksgiving~!~
Thanks for stopping by--
PEACE
and
HAPPY CREATING
~!~