Yes I know - I have painted another yellow flower but it seems I am attracted to
very bright and vibrant colors and I cannot help myself - LOL.
Yellow is a color that makes people happy (
whether they know it or not
)....it
also gives off or makes one feel very energetic - so perhaps that
is why I am prone to painting more yellow flowers then other colors...hmmm!
Well it is Day 4 and here is my painting for today-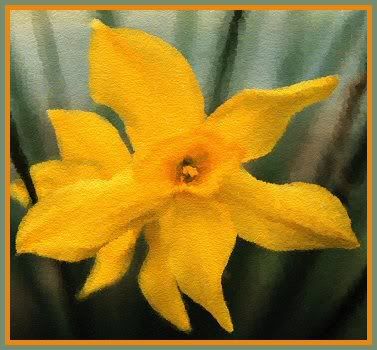 This is a yellow Narcisuss..almost looks like a daffodil--
I like finding pictures that have a bright subject and the background
is darker--makes those beautiful colors just stand out!!
Anyway--I want to
THANK
all you wonderful visitors for stopping by-
I appreciate the feedback and kind words--you really are
contributing to a lot of healing for me - and supporting me and
for that there are no words to express how I feel...
Thanks - and Come back tomorrow to see what I have in store-
Peace and Happy Creating
~!~