WOW
- tomorrow is the last day of
AEDM
and
NABLOPOMO
....I cannot believe
that a whole month has gone by so quickly---it has been an amazing month-
Today I am going to show you one of the zentangles that I did for practice--trying to
figure out how I was going to do things and such...so here is my practice one: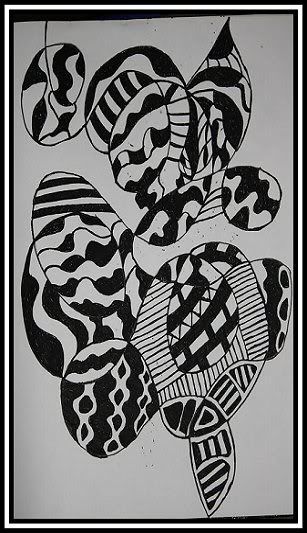 It is not anything fancy - I just wanted to see what different line doodles would
look like ---everything is kind of giant in size but at least you can see where
I started from and where it has taken me---
tomorrow I will be uploading a hand zentangle that I think looks awesome--
it is much more detailed -
NOW
---I have been asked some questions so I thought I would answer them
here and now---I did not take lessons to learn about zentangles - I saw
some examples and read about it being a new artform and I was instantly hooked.
I am teaching myself through trial and error - there really is no wrong way because
it is just doodling - and art is so open to interpretation--it can be anyway you want.
I did not buy anything to do them--I have a fine point sharpie marker/pen that does
not bleed through the paper and that is it....no special equipment - actually I think
the practice one above was partly done with a gel black pen - until I found my
sharpie--so there truly is nothing special to buy.
I have always enjoyed doodling - like when you are talking on the phone
and you just start to doodle and make shapes and such - well that is where I
started from and I am slowly expanding what I can do.
I made this process easy since it is all new--I just wanted to have fun -
I am kind of glad I did not take lessons or anything because I feel
like there are no rules or boundaries and that I like~~
I hope this answers some of your questions---thanks for stopping by - I appreciate
your support and kind words!
PEACE
and
HAPPY CREATING
~!~