WOW
- today I am really late getting this entry up---
believe it or not I have been creating -
I have met this lovely artist
Julie Jordan Scott
through

AEDM

this month who
has been super supportive of me, through her sweet comments-
She is doing a project she calls hands-decorating an outline of her hand.
Well I am totally intrigued over this...so I just spent the
majority of the day decorating my hand with geometric shapes and lines and such.
I am really enjoying myself. Well her hand and the geometric shapes are
really inspiring me to try this new stuff.....
I have so many ideas for decorating hands - so I started. I still have to take a pic
and upload it in order to show you all...I think it is awesome!!
So here is my newest ATC card: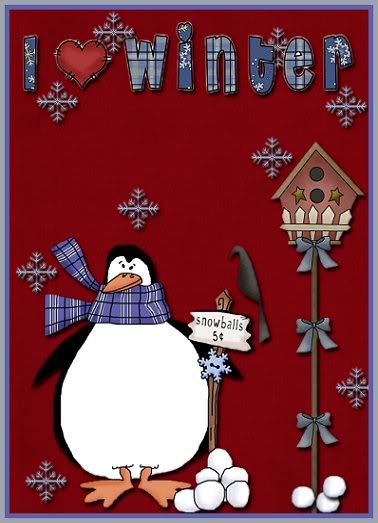 I absolutely love penguins - to me they are just too cute!
I used to deal with the snow of winter for the first half of my life---
but Thank God I live in the sunshine state - because after
going to college in Buffalo - I just could not take much more snow--LOL!
Some visitors have left comments about ATC cards (
artist trading cards
)-
so here it what they are:
they are
SMALL
pieces of art that are the size of 2.5x3.5.
They are
NEVER
sold - they are exchanged (
traded
). Small canvases of collages--anything
your heart desires - any media you want to use.
There are only two rules really - the size and never sold - the rest is up to your
imagination. They are about the size of a business card--that is it--
my ATC cards look huge but if it was printed out it would only be the size of a business card
that is why I love them - they are only restricted by your own creativeness - nothing more!
Well thanks for stopping by and I hope your Sunday is wonderful!!
PEACE
and
HAPPY CREATING
~!~