Happy Friday The 13th!
WOW
- some peeps really go bonkers over that date - here it is just
another day in the neighborhood - lol.
I will say that it is quite chilly today - feeling good - hope it lasts.
I think the skies are actually looking a more vibrant blue then I have
seen in a very long time!
I was playing with more elements and created this card - nothing
really special - just putting things together to see what I get...
and I thought - wow - try something for this special friday - lol and
here it is: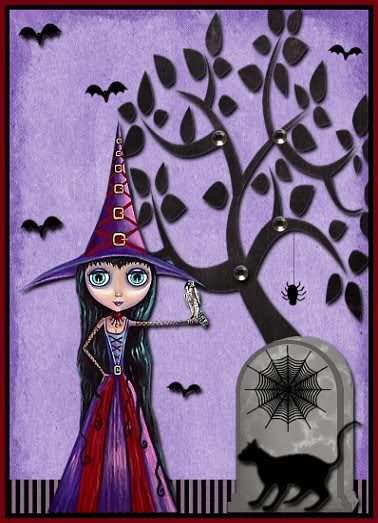 Well now that I think about it - friday the 13th and the above card
really do go together - lol.
I particularly like this one because of the colors - purple is my passion.
I just love the color - now purple gives me energy and makes things happy
for me - strange but true!
I also love her big round eyes - windows to the soul - so pretty....
So this is my little contribution to the 13th with a black cat and
all that stuff - lol -
I wanted to
THANK YOU ALL
for the beautiful and supportive
comments you all have been leaving -
OMG
- they have truly
touched my heart and inspired me to keep moving forward--
I so appreciate it!
Have a
FANTASTIC WEEKEND
--
HAPPY CREATING
~!~