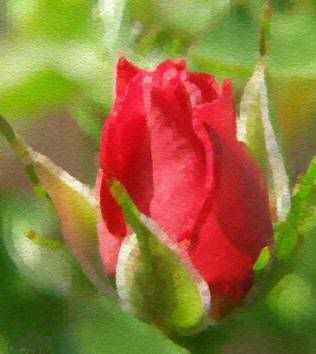 I was able to finish this digital painting in time enough for today....a rose is a rose is a rose...
I really think I have a thing for roses.
I like it except for the lil white around the green leaves...it was suppose to be the peach fuzz sort of thing...but I just could not get it any more tighter....now if the image was only a thumbnail, it would look perfect.
But in general I do like the way it turned out!
I have a couple of questions to just throw out there to all of you - let me know if you
have an opinion about them:
Do you feel obligated to leave a comment when you visit a blog?
If you have a blog - Do you want people to comment?
Do you blog for yourself or for others or a combination of both?
If NO ONE ever commented on your blog - would you still write in it faithfully?
If someone comments on your blog - do you feel obligated to go to their blog (

if they have one

) and leave a comment out of courtesy?
I have read in several blogs - this same dilemma going on...this same burning question
being asked in different forms...so I want to know how you all feel.
Thanks for any input you may have...
My fragmented rose is my entry for Day 17 of AEDM.
Thanks for Looking!!!