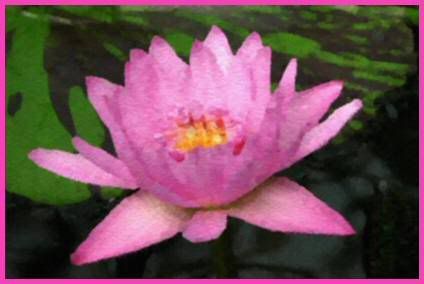 Here is another type of Lily....a Giant Amazon WaterLily....I love the pink in it.
This is the first one, that I applied a filter to after I was done painting it...the edges were
a bit harsh to me so I added a soften filter to it and it came out a bit better...
Took me a few days to finish it up...and I like it...Not perfect - but so me!!!
Did another major Brave thing yesterday - I jumped in the shower (

not the brave part

) and
got on some decent clothes (

still not the brave part

) and told my hunnie and daughter -
"Let's Go Out" (

NOW THAT IS THE BRAVE PART

)
Remember I live the life of a hermit...total hermit...I have been taking small
steps by sitting outside every day in the early evening till night with my hunnie
just chatting and such. Well, I have not been

OUT OUT

for at least 2 and a half months (

I usually only go out for doctor appointments and such

) - well my hunnie took me to a Chinese restaurant for dinner (

my fav

) and then out shopping so I could pick up things I have wanted.
WOW

....I actually went shopping in Walmart and did not freak out and feel panicky. Not feeling panicky is the first time -since I became ill...

WOW

...what a

GREAT

evening!
I even picked up more art supplies such as flat board canvases, oil pastels, art paper, paints, and such...I finished up a few more Christmas presents..got some great M&M stuffies that only
come out at holiday time (

we collect M&M things

)...and at no point did I feel like an anxiety attack was starting or anything...this is a

GREAT SUCCESS

for me...
Thanks for reading this far -
The waterlily is my entry for Day 29 of AEDM.
Thanks for stopping by and Looking!!