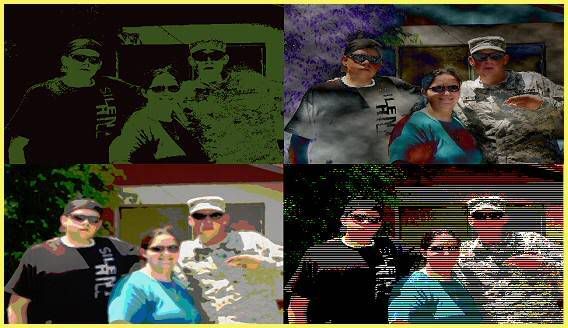 My friend Anke offers challenges in her blog called CREATIVE SPIRITS CONNECT.
I have wanted to participate...the last challenge is altering photos...but my photos are all
digital..I don't have them printed out...so I could not figure out how I was going to participate in this challenge. Then today it came to me - (

I seem to be running on slow as far as my thinking goes

) I can manipulate my photo in paint shop pro and see what I come up with. (

I don't think Anke was thinking digitally

) But I played around with filters I have never used before and the above are the results...I know the photo is small and you cannot see all the details - sorry...I am just going to leave it like that because
I don't want to mess up anything...but I had fun!!!
The picture is of my three kids during a visit in April 2007.

So this is my answer to the challenge...Thanks for Looking!!!