I have been doing a
BRAVE
thing (
one of the things on my list
) for about two weeks or so now..
I have been sitting outside in the evening with my hunnie.
I convinced him we needed a fire pit...just to hang around and talk and such...
and he went out and bought one I showed him on a website.
He did this because if the truth be known...my family has been trying to get me to leave the
comfort of inside my house.
It is almost impossible...I believe I already mentioned that I am agoraphobic...so being inside, in
my puter room, is total heaven for me...but I have been making this grand effort(

a major Brave step

) to at least go
outside my front door and sit for a few minutes...well I am up to 2 hours.
We go out after it is dark and light up the fire pit and just look at the stars (

I had forgotten how absolutely beautiful the stars can be...we also had a night of shooting stars last night

), and talk about
whatever comes to mind.
Well my mind has become much more relaxed and I am feeling much more creative.
More ideas swirling around my head...more questions to ask...planning out projects..etc..you get the idea.
Well after I came in today...I decided to make another ATC card with color...warm colors...the way I was feeling...warm and secure...and this is what I came up with: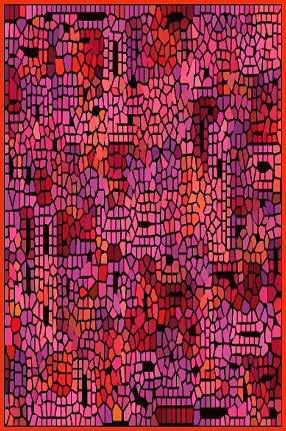 I really like this ATC card...love the warm colors...the pattern of the pieces...
truly it makes me smile to look at it...I am pleased with the results..
This is my entry for Day 19 of AEDM.
I really enjoyed making this one...THANKS for taking a look!