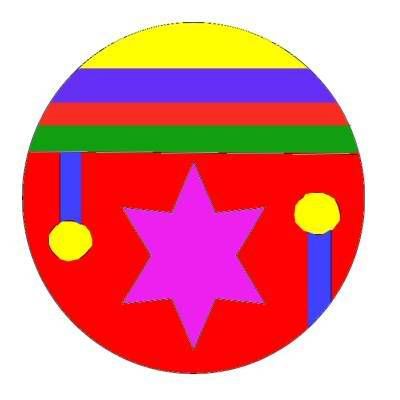 Well I went ahead and did it...I created my own MANDALA...I have seen these wonderful objects in several blogs and decided to try it out(

they are definitely things that have been inspiring me this past month

)....I have to fix my printer so I could not print out a template that I have of a premade mandala (

uncolored

) so I designed my own in paint shop pro and colored it in digitally....I wanted to use bright colors to attract ones' attention. I am also still
playing with the concept of lines and circles...so this is what I made...one of my most favorite shapes is stars...so of course I had to put one in...it made me smile when I was done because
of all the bright colors...a bit crude in the creation of it...but I think a darn good try for a first time.
I also updated my everyday blog - would love for you all to go check it out...it is an interesting entry to say the least...the words just flowed!
ELLIE'S CRAZY LIFE!!!
So my mandala is my entry for Day 16 of AEDM.
Thanks for Looking!!!!