WOW

- what a different look....it is square....now this one just blew my mind
because I have not had a square one yet....and how it came about I have no idea
(

as usual

) - but the effect is great......I really love everything about it...
there are 4 hearts near the center which are awesome and the white and pink swirl
on the outside looks dreamy....I do not know where the fragmented look came from but
it just makes this one unique and a great addition to my little collection here.
I thought I would play some more (

had storms this morning - so I just played off line

)
and this is what happened: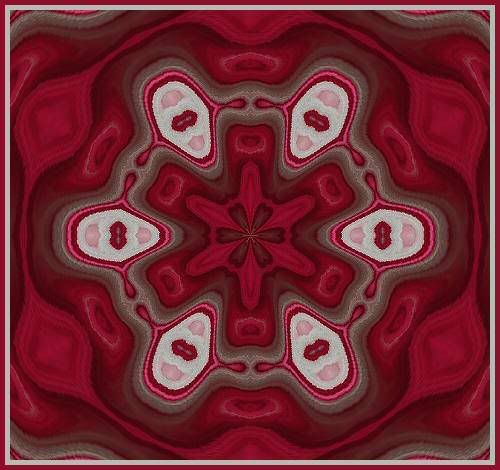 I love this one also - the white "blots" add such an interesting look...they make the red
pop out to me...the flower on the inside trying to grow outwards....and the
soft lines through out the whole image is just wonderful.
If you cannot already tell....I really like these two results....
This week the creative prompt over at HANDMADE MONDAY is the color

RED

..
So I think I will be entering these two images as my answer to the challenge.
THANK YOU ALL

for stopping by and looking and for your encouraging
comments...they give me such hope and...this is a great thing!!!!