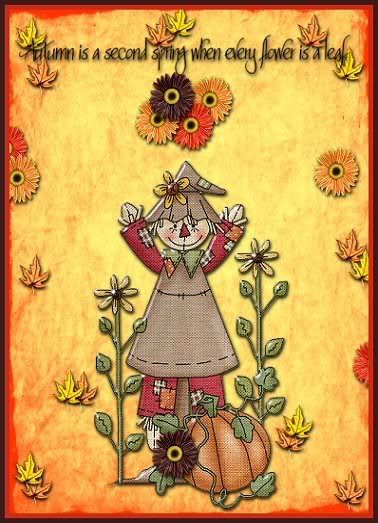 It is still monday here - I am running behind everything now -darn it!!!
Here is another autumn
ATC
card I made - I think I am hooked on the warm colors.
I like the quote on this one -

Autumn is a second spring with every flower a leaf

..how very cool and true!
I do not think the scarecrow will scare away anything - but she is cute - yes it is a girl!!!
I just love fall but from I heard from friends living up north - they are just praying for no major snow before December...some have already gotten some snow - that is so crazy!!!
It is still hurricane season here - tho I think the season has died down - yes I know about palermo but that did not affect Florida - just made bigger waves here.
Well this is my entry for today for
AEDM
.
Thanks for stopping by and looking!!