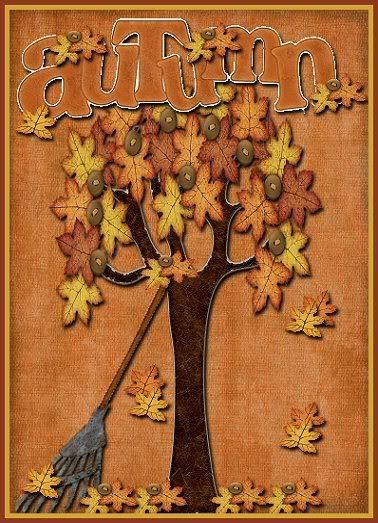 As I think I said previously here is another autumn ATC that I had created.
I like this one because again it is simple and when I think of fall I truly think of rakes and how many weekends my brother and I spent raking leaves and leaves and leaves - we could not stand it...
but I also got a chance to collect all the brightly colored leaves I wanted...
and I remember always feeling the texture....and the veins that went through them...
also jumping in a pile of leaves was the ultimate in fun!

I seem to be running behind again -yesterday's entry says sunday but it is suppose to say
Saturday - I guess I blogged too late - today's ATC is for Sunday!!
It is also for my entry for

AEDM

.
Thanks for stopping by and Looking!!!