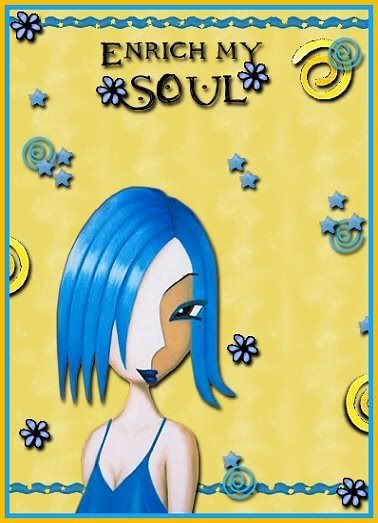 Today I am feeling spiritual - feels good - hence the ATC card I created.
Believe it or not - it just came to me - might look kind of thrown together - but actually
I spent a lot of time putting it together- putting things on then off then on then off...drove myself
nuts them I just stopped forcing myself to get it done and the above is what came to me.
I like it - I have been taking a course/class in soul coaching - so I think that is where
the spirituality has come in.
I think in some ways - we are all searching how to enrich our souls, our hearts, our lives..
it is just the road we take that is different - but the longing for it is the same!

I so love her blue hair - her look is almost mysterious - yet daring!!
So what is your soul searching for?
This is my entry for

AEDM

....
Thanks for stopping by and Looking!