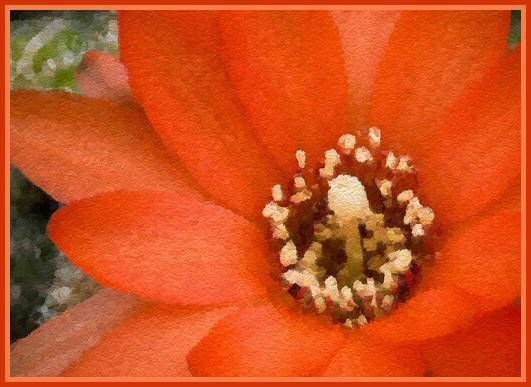 Yes - I completed another digital painting. This one took about 6 or more hours (

give or take

).
I love the orange hues in it....it is a flower from a cactus...so cool!
The original of this one is

BIG BIG

...but trust me it looks much better at this size.
I am very happy with the results...and when I had finished with it - I felt so relieved yet fulfilled if that makes any sense..
This is definitely my entry for
CED
- yayayay.
I want to

THANK YOU

all you have stopped by and left comments here - there are

GREATLY

appreciated...I have not figured out yet how to respond to people by directly responding to the comments - but I do try and make it by each person's blog - Your comments really lift me up
and encourage me - it is the best compliment I could receive!
Have a great Thursday!
Thanks for stopping by and Looking!!!