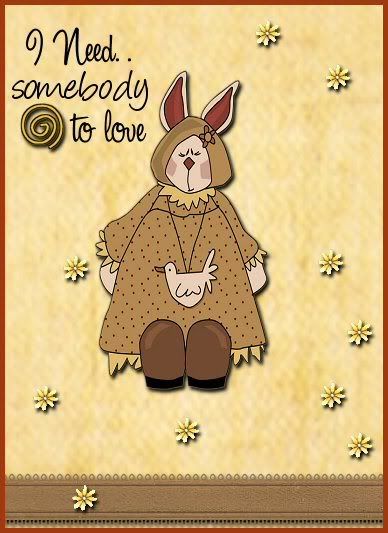 I have been spending my days with mega-surfing....finding things that are inspirational, topics that interest me, ideas for things to do etc...before I know it - hours have flown by - this really is a good thing. It has kept my mind busy (
which is my first priority
) and makes me feel like I am doing something good...moving forward.
I also have been busy creating my new blogs since AOL gave all their customers the boot..so I am trying to find peeps that I used to be in touch with at AOL...that is coming along well, I think.
Also in between - I am still creating my digital ATC cards...that keeps my muse happy.
So the love bunny above is my next extry for
CED
...I think it is cute - simple but cute!
Now this blog is NOT going anywhere - I am still using it for my art - my creativeness..but my everyday life blog and my inspirational share blog have now officially moved to blogger.
So again - in case I have missed anyone...Here are my new blogs
:
THE CRAZY LIFE
....... my everyday life blog - get to know me, my family and my crazy life even better ...you never know what I might say....LOL
ANGELS TOUCH MY HEART
........ This is where I share inspirational quotes, poems, stories that have been sent to me, or that I have come across during my travels through the internet.. If you have something inspirational you would like to share - please feel free to send it to me...
Okay - remember if you take pics of those beautiful fall colors coming alive - send me them or share them in your blogs - I am thirsty for them (
does that make sense
). For some reason - truly my soul is longing for them...
Thanks For Stopping By and Looking ......
PEACE
~!~