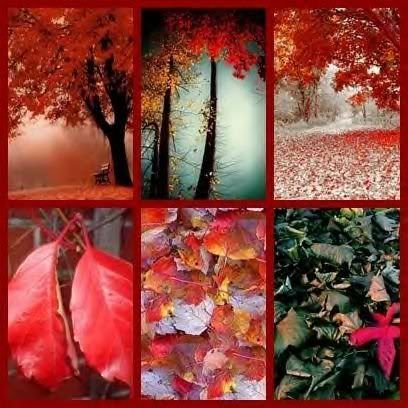 Before anyone asks - no I did not take the above photos - I wish I did but that is nearly impossible because I live in Florida and we do
NOT
have changing leaves like up north - that is one of the things I miss most but that is about it...lol
Someone sent me the above picture so that I could look at those colors again so I thought I would share it here - fall colors can be so inspirational.
The picture really makes me feel good - now if any of you get to experience leaves changing their colors -
PLEASE
send me pictures of what you see - I really do miss that - I have not seen that in person in over 20 years - hohum!!! I would say send me some leaves by snail mail but I am wondering how long they would keep their color..lol.
Okay - today on AOL (
yes I am one of their customers but I do not pay for AOL - ever since it went free
)..I have kept an everyday blog there for over 5 years...lots of history, ideas, thoughts and feelings...and today AOL sent me a letter to say I have a month to remove my web pages-journal pages and pictures that are stored there because they are closing it...
OMG
- that company really knows how to destroy and turn away customers...they are
NUTS
...(
I was going to use more colorful adjectives but I am trying to curb my tongue
).
So the rumor has it that we might be able to migrate our journals over to blogger (
I hope so
) so I have saved my journal name already - here is the link:
CRAZY LIFE
...so save it - there is nothing there yet but definitely click on follow me and save the link - because next week they will test out the migration of some blogs and if it works then everything I have will be on blogger.
I have 1000's of pictures stored there - now that is going to take a while to download into my external hard drive..geez!!!
My web pages upsets me - I have no idea what I will do about those.
ANYWAY--
Below is a craft project that I thought was a lot of fun - so I am passing it along...
MONOPRINTING
Monoprinting is a process whereby only one print is pulled from the printing plate.
What You Need:
Printmaking ink if you have it or a thick water-based paint. (Acrylic or tempera ... you can add flour to tempera to make it thicker and stickier like ink).
Paintbrushes.
Sheets of plexiglass (approx 12"x12") (any size - the roomier the better in my opinion) You can sometimes find plexiglass for next to nothing at your local lumber yard or hardware store. Just ask for the offcuts they normally throw away. You can also use old signs (the plastic ones) for this activity.
Paper.
A covered work area.
Soft rubber brayer or small paint roller. (optional)
Popsicle stick or pencil with eraser.
What You Do:
Method # 1
Using the brayer, roll ink out onto the plexiglass, covering it completely.
Using the end of a pencil or a popsicle stick, anything really, draw an image on the plexiglass.
Place paper on plexi and rub lightly.
Peel away paper.
Method # 2
Using the brayer, roll ink onto the plexiglass, covering it completely.
Place paper over plexiglass.
Using a pencil, draw an image on the paper.
When you peel away the paper, the image will have transferr ed itself.
This is very similar to using carbon paper.
Method # 3
Using your paintbrush, paint a design onto the plexiglass using as many or as few colours as you like. Work quickly ... don't let the paint dry!
Place paper over the plexiglass and rub lightly with the palm of your hand.
Peel away paper.
Sign your work.
**
you do not have to use plexiglass - you can use a piece of strap glass or any smooth
surface like plexiglass - using it is great because it is SO easy to clean..no hassles!
The thicker the paint the better - you can also use plain fabric - instead of paper - truly the possibilities are endless and fun.....then after you have your newly decorated paper you can make journals or lil notebooks for gifts...again possibilities are endless..if you are going to make the paper for books or note books or such the paint color should be light - that way it can still be written on - you know what I mean?!-most of all - have fun
**
Thanks For Stopping By and Looking - Leave a comment - would love to know who came by for a visit!!