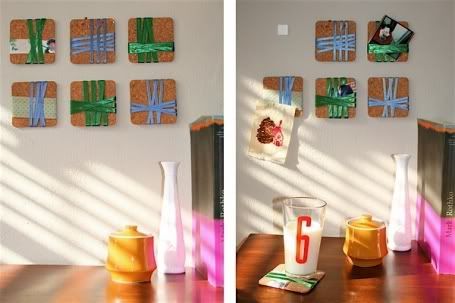 I came across this craft project that I thought others would find interesting...I wish I had originally thought of it - love cork - lol
Here is the link where it has some helpful directions -
CORK PROJECT
- but you could really take this project in so many other directions - it gave me some ideas - which is what I want stirred inside of me when I am looking for inspiration...(
you know what I mean?!?
)
I also have signed up to be part of a book club for
SOUL COACHING/SEARCHING
...I am so excited about it because I truly feel it is going to help me break through some of the fog I live in. (
depression has a habit of doing that
). I am going to be writing about it in my other journal -
MOTHER AND DAUGHTER PROSPECTIVE
...so starting in November I should be blogging about it everyday - which is also going to motivate me to participate in
NABLOPOMO
..which I have always wanted to do.
Did I mention that I have updated my other blog - well check it out if you want to - kind of starts to explain what has been happening in my world -
CLICK HERE
.
Well let me get this entry published before I forget (
which is something I seem to be doing lately
)..Thanks For Stopping By ....
PEACE
~!~